Fightin' Phils Win With Green Power
After 28 long years, it finally happened.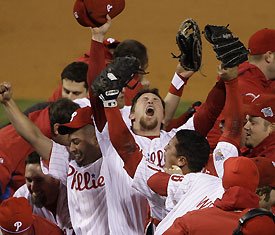 Fans spilled into the streets, traffic ground to a halt, fireworks exploded, grown men wept like babies.
What could have brought about this strange turn of events?
Why the fact that the Philadelphia Phillies were named Top National Green Energy Leaders of course!
As you can see from the photo, the team is really quite excited about the designation, made by the U.S. Environmental Protection Agency.
(Perfect closer Brad Lidge, pictured here, is a well-known for his love of electric cars.)
Ahem.
No really they are quite excited. Even popped a few champagne corks over it last night we're told.
Well, there may have been one or two other things that have them in a good mood these days. Something about a World Series title...
We're not sure. We here at the Thin Green Line keep a singular focus on all things environmental, often to the exclusion of everything else.
No really.
Ahem.
But ah anyway, whatever it is that has the boys in red so happy, we're sure the victory is made that much sweeter knowing that they go there doing the right thing, purchasing 100 percent of the power at Citizens Bank Park (where, apparently, some big event happened last night) from green sources.
"The Phillies' green power purchase of 20 million kWh is equivalent to avoiding the carbon dioxide emissions of nearly 3,000 passenger vehicles per year, or is the equivalent amount of electricity needed to power nearly 2,000 average American homes annually," according to
this announcement
from the Pennsylvania Department of Environmental Protection.
Why 3,000 vehicles, that represents about 10 minutes worth of post-game traffic on the Schuylkill Expressway, or at least it can seem that way.
Anyhoo, congratulations to the Phillies for being the greenest world champions in history. Keep up the good work!
No doubt next year, all their bats will be cut from sustainable forests...
Ahem.
Go Phils.
Labels: Brad Lidge, Citizens Bank Park, Environmental Protection Agency, green energy, Philadelphia Phillies