New Life for Old Electronics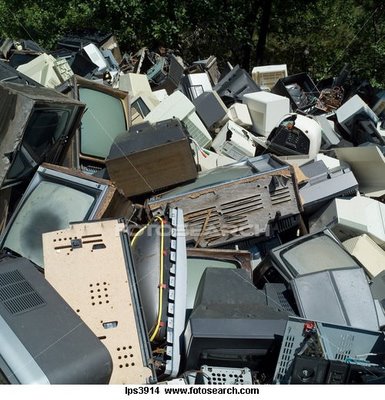 Your heart raced as you tore the paper off the package ... YES! that new iPod (or Blackberry, or computer, or MP3 player, or BIG SCREEN TV)! Santa came through big time.
Your hands trembling, you disconnect the old dinosaur (barely two years old) in your entertainment center, sweeping away the dust and accumulated DVDs and make room for your new baby...just in time for the SUPERBOWL!
Or how about this? The old Zenith won't get that new digital signal that starts next month, so rather than get the converter box, you decide it's time to get a new TV.
Or maybe you have heard such good things about Vista (OK, let's face it, that would never happen) that you've run out and purchased a new computer.
All of these scenarios have one question in common: What do you do with the old one?
Well, in a previous life, you would have put it at the curb, surprisingly still legal in Pennsylvania.
But what you may not know, or have chosen not to question, is that many electronics contain dangerous chemicals, heavy metals in particular.
Why are they potentially harmful? The Pennsylvania Department of Environmental Protection informs us that electronic equipment contains metals like cadmium, lead and mercury.
Cadmium - The largest source of cadmium in municipal waste is rechargeable nickel-cadmium (NiCd) batteries.
Lead - Monitors and televisions contain a picture tube known as a cathode ray tube (CRT). The CRTs contain leaded glass, and are the largest source of lead in municipal waste.
Mercury - Some electronic equipment also contains recoverable quantities of mercury.

Electronic discards include computers, monitors, televisions, audio equipment, printers, and other electronic devices. Rapid advances in technology means that consumer electronics, particularly computers, are quickly rendered them obsolete. The average lifespan of a computer is about 2-3 years. (Here I must announced proudly that I still use a desktop that runs Windows '95. Honesty also requires that my son calls it "Old Bessie" and it is little more than a glorified typewriter at this point.)
Further, we all know that when it stops working right, the price of replacement parts or service often makes it more practical to simply buy a new one; which is all well and good, provided you can find a green way to get rid of the old one.
Well guess what, your friends here at The Thin Green Line are here to help.
Having finally regained consciousness after being bludgeoned insensate by an overdose of holiday consumerism, we sent our massive team of expert researchers into the field to answer these crucial questions.
(In other words, Evan spent a few minutes surfing Web. This really isn't that hard people!)
One answer is to be found from the very same DEP that warns us about the potential pollution from the old Victrola.
Their first suggestion, contained in a Dec. 30 release that landed in The Mercury in-box, is a pretty good one. If it works, find someone else you can give it to.
Free-cycle (more about this in a later blog) is one way to do it, although you might also call The Mercury's Sound-Off line (610-323-3009) and leave a message. Someone will surely want it.
The good news is there are a number of locations around the state where electronics can be dropped off for recycling. The bad news is there are none in the immediate area, with the exception of Jim Crater's Recycling Services Inc. in North Coventry which will take some electronics for re-sale.
You can go to the DEP Web site, --
http://www.depweb.state.pa.us/
-- and search under "Electronics Collection Program," or call one of their hotlines, 800-346-4242, or 717-787-7382 to find out where, but why do that, when we've already done it for you?
Philadelphia County - Philadelphia now has two permanent drop off collections sites for electronics recycling. Hours are Monday - Saturday 8 a.m. - 6 p.m. The sites are located at:
Domino Lane and Umbria Street- Roxborough
State Road and Ashburner Street
Questions can be directed to Scott McGrath at 215-686-5504
Lehigh County residents can recycle unwanted electronic equipment at AERC Recycling Solutions at 1801 Union Blvd in Allentown on the 2nd and 4th Friday of each month from 9 a.m. to 3 p.m. Fee to recycle most items is $1 and televisions are $5. For a full list of prices or for more information please call 610-797-7608 or visit http://www.aercrecycling.com/
Lancaster County (computers only) - Residents of Lancaster County can recycle their computers for NO CHARGE. This includes associated items such as monitors, printer and keyboards.
Small businesses can recycle up to 25 computers. The first five will be recycled for NO CHARGE; after that there is a $5 fee for each monitor and a $5 fee for each CPU.
Computers will be accepted at the Household Hazardous Waste Facility, located at 1299 Harrisburg Pike. Monday through Friday 8:30 a.m. until 3 p.m. 2nd & 4th Saturday of each month 8 a.m. until noon. 717-397-9968 http://www.lcswma.org/
If the item you're tossing is smaller, guess who else can help? Would you believe the Post Office?
In April, the Post Office launched a pilot program that "allows customers to recycle small electronics and inkjet cartridges by mailing them free of charge."
Called the "Mail Back Program," you just go to the post office and use free envelopes located there to mail back inkjet cartridges, PDAs, Blackberries, digital cameras, iPods and MP3 players – without having to pay for postage. Postage is paid for by Clover Technologies Group, a company that recycles, remanufactures and remarkets inkjet cartridges, laser cartridges and small electronics.
If the electronic item or cartridges cannot be refurbished and resold, its component parts are reused to refurbish other items, or the parts are broken down further and the materials are recycled, according to the Post Office. Clover Technologies Group has a "zero waste to landfill" policy: it does everything it can to avoid contributing any materials to the nation's landfills.
The free, postage-paid Mail Back envelopes can be found on displays in Post Office lobbies. There is no limit to the number of envelopes customers may take.
According to an April release, "The pilot is set for 10 areas across the country, including Washington, D.C., Chicago, Los Angeles and San Diego, but could become a national program this fall if the pilot program proves successful. "
Our crack research team was unable to find any information about whether the program is available everywhere or not. Maybe someone will let us know.
Labels: computers, electronics, iPods, MP3 players, PDAs, Pennsylvania DEP, television, U.S. Postal Service