Police Speak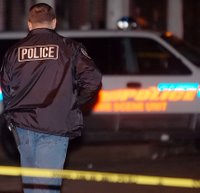 (The following statement was issued to the Daily Local News Thursday.)
We, the officers of the Coatesville Police Department, would like to express our appreciation for the actions and efforts of the following organizations who rose to our defense when plans were in motion to deplete the structure of our department: Pennsylvania Fraternal Order of Police (F.O.P); Local Fraternal Order of Police (Lodge #11); Pennsylvania State Police, Drug Enforcement Administration; surrounding Police Chiefs and the officers within their departments; Chester County Commissioners; Chester County District Attorney's Office; Chester County Detectives; Police Athletic League; and Coatesville Police Chaplains.
Individually we would like to thank Chester County District Attorney Joe Carroll; Pennsylvania F.O.P. Acting President Les Neri; Local F.O.P. President Ed Toner; Coatesville City Council members Edward M. Simpson Jr., Martin L. Eggleston, and Stephanie Smith-Dowridge; Coatesville Police Chaplain Sherry Crompton; and David DiSimone.
Without your diligence, influence, and active protesting of the pending devastating moves brought to light by members of the press, we the Coatesville Police would not have been able to continue providing many necessary police services for the residents of and visitors to the City of Coatesville.
Your actions helped stop a maneuver that would have eliminated 6 police officers, who are crucial to the future of our department and city redevelopment. Keeping these 6 officers will allow our uniformed patrol division to remain at a more effective level. Our uniformed police officers can continue protecting the City of Coatesville and its citizens, assisting them with the difficulties they face in their daily lives, difficulties which at times are understandably beyond their ability to solve themselves. Maintaining the number of officers at its current level allows us to continue responding to live threatening situations in a timely manner and continue protecting the citizens against dangerous encounters.
Keeping these 6 officers with the department allows our detective division to stay as effective as it has been in investigating serious crimes and will allow our drug unit to stay intact and operational. The drug trade and its lead players have been responsible for the majority of home invasions, shooting incidents, and murders that have plagued this city for years. Our current drug unit focuses on eliminating the drug trade by attacking its supply chain in its entirety.
Finally we ask for more support from our residents in the future. As much as it helps us to know when our performance is less than you desire, it is of equal or greater help to us if you let us know when our performance is acceptable to, or exceeds your standards. Too often our critics are the only ones who voice their opinions. We believe our supporters out number our critics. We recognize that comfort is quiet while discontent is boisterous. We call for our content citizens to become vocal and support us at City Council meetings.
To quote an unnamed Coatesville Police Chaplain who submitted a letter to the Distinguished Members of City Council in March of this year regarding the perceived lack of support for our police officers by this city's government:
"Behind every badge, underneath every uniform, beats the heart of a caring human being."
Our hearts are beating with gratitude. Thank you for your support.
-- The Coatesville Police Benevolent Association