THE DAILY TIMES' PREVIEWS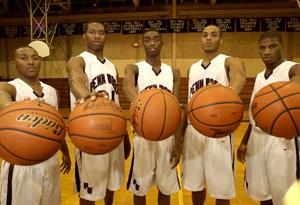 See that guy in the photograph, the second one from the left? That's Penn Wood center
Shawn Oakman
. The 6-9 sophomore doesn't like to get bullied. It doesn't happen too often, but against Chester last season, it happened four times.
"It was like we were the younger brother that was getting picked on and beaten up by an older brother all season long," he said. "I'm done with that. Now we're the older brother and Chester is going to get picked on some. It's our turn."
Oakman and the Patriots will have
a chance at redemption
(actually two of them, in the regular season at least). The 2008-09 season is upon us.
Outside of the Del Val League, here's
the Delco Roundup
of what's expected from t
he rest of Delaware County
. A new feature of the winter sports previews is something we called
High Fives
, highlighting
the five top players
(in no particular order) at certain skills. Check 'em out.
There are tons of games tonight, including several notable tip off tournaments. Pick up a copy of Friday's
Daily Times
for all the times and sites.
Enjoy the preview stuff.
Labels: Basketball Previews, Delco Roundup, High Fives, Shawn Oakman