DONOFRIO QUARTERFINAL HAS DELAWARE COUNTY FLAIR
If you've never attended the
Donofrio Classic
, this week would be a great time to do so.
It's a long-running single-elimination tournament that features the best players and the best AAU teams from Southeastern Pennsylvania and South Jersey (and sometimes even the North Jersey/NYC suburbs).
There's a nice twinbill this Wednesday, April 8:
I-3 All-Stars vs. Mainstreet, 7 p.m.
Sonny Hill Juniors vs. Positive Image, 8:30 p.m.
The early game featuring nine players from Delaware County and three members of this year's All-Delco team. There are two starters from Archbishop Carroll's PIAA Class AAA championship team and four starters from Penn Wood's Class AAAA title team: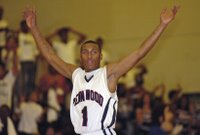 MAINSTREET
Rahlir Jefferson
, Sr. F, Chester *
Maurice Nelson
, So. G, Chester
Tyree Johnson
, Jr. G, Penn Wood * (pictured)
Duane Johnson
, Sr. F, Penn Wood *
Shawn Oakman
, So. C, Penn Wood
Thomas White
, Sr. F, Penn Wood
Aaron Brown
, So. F, Penn Wood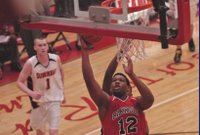 I-3 ALL-STARS
Andre Wilburn
, Sr. F, Archbishop Carroll
Kasheef Festus
, Sr. C, Archbishop Carroll (pictured)
The later game has just one county player – Episcopal Academy's sophomore center
Isaiah Baker
, whose Sonny Hill Juniors take on Positive Image in an 8:30 p.m. tipoff.
Note: An asterisk (*) signifies All-Delco status.
# # #
Two Delco teams were shown some love in recent national basketball polls.
Archbishop Carroll
is ranked fifth in the Northeast Region (Pa., N.Y., N.J. and New England) by PrepNation.com. The PIAA Class AAA champion Patriots are three spots ahead of league rival, eighth-ranked
Neumann-Goretti
.
In USA Today's East Region poll,
Penn Wood
garnered a No. 7 ranking. Though inactive, the PIAA Class AAAA champion Patriots moved up from last week's No. 8 rank
Labels: Aaron Brown, Andre Wilburn, Donofrio Classic, Duane Johnson, Isaiah Baker, Kasheef Festus, Maurice Nelson, Rahlir Jefferson, Shawn Oakman, Thomas White, Tyree Johnson