All-Delco Week in full bloom
Three down, five to go.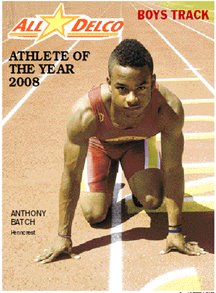 All-Delco Week for the spring season is well underway. So far Chichester's
Aurora Kan
was named the golf Player of the Year, and Penncrest's
Karen Shump
defended her status as girls track Athlete of the Year with her fourth-such honor.
Now we move onto today's honoree - Penncrest's
Anthony Batch
, whose
superb all-around season
earned him boys track Athlete of the Year. Batch had the second-best time in the state in the 400 - his best event - and won all but one race this year, the 400-meter final at states.
In other high school news:
Batch's teammate
Jerry Thompson
made his commitment to South Carolina recently. Thompson, an All-Delco pole vaulter for two seasons,
looks to continue that down in S.C.,
though he could pursue a future in the decathlon.
And finally, Chichester has hired
Tom Dougherty
as its
new boys basketball coach
. Dougherty has a bevy of experience, having coached at Sun Valley, Academy Park and Neumann-Goretti among others. He will replace
Alan Munford
, who left the Eagles to accept a head-coaching vacancy at his alma mater of
Harry S Truman H.S.
in Levittown.
Labels: Alan Munford, All-Delco Team, Anthony Batch, Aurora Kan, coaching vacancies, College commitments, Jerry Thompson, Karen Shump, Tom Dougherty