Ed Krensel
Ed Krensel (above) is the CEO and chairman of the Enecon Corporation, a manufacturer of high performance polymers. One of Krensel's biggest customers is the U.S. Navy. As a non-commissioned officer in charge of all special services and USO shows for the 8th Army, Ed Krensel met several stars of the times including singer and movie star Debbie Reynolds (below, second from left).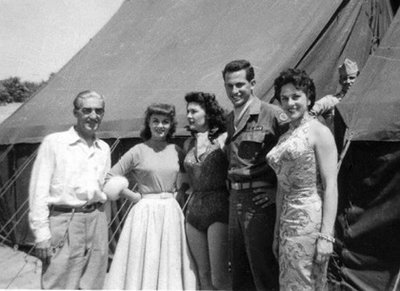 Bucks veteran dodged sniper fire
while on guard duty in Korea.
By Bob Staranowicz
BucksLocalNews.com
The characteristic "click-click" sound from the bolt-action of an M-1 rifle could be heard from beyond the perimeter of the base camp. Strong lights illuminated the bunker line as North Korean ex-POWs ambled just across the outer limits of the base. The war was over, the truce in effect, but pilfered weapons were being used by the former enemy to snipe at the U.S. soldiers as they performed their nightly guard duty in a fully illuminated "fish-bowl." As several shots rang out, they scurried for cover. Fortunately, on this particular night, however, no one was hit; no one was injured.
The Korean War began in June of 1950 when South Korea was invaded by troops of North Korea. The war continued for over three years and officially ended on July 27, 1953. In Panmunjom, 18 official copies of Korean Armistice Agreement were signed after over 150 meetings spread over two years. The truce went into effect at 10 a.m. on the 27th. All hostilities were suspended and all military forces were withdrawn from a 4,000 meter wide area — the Demilitarized Zone or DMZ. Even though the armistice ceased all hostilities, it was not, and is still not, a permanent treaty.
American troops still had a presence in South Korea after the end of the war and they still do today. Ed Krensel, a Doylestown resident, was sent to Korea after being drafted into the U.S. Army in 1953. Krensel was born in Philadelphia in 1933. After graduating from Olney High School, he attended Temple University for two years. He then entered the military and was off to Camp Pickett, Virginia for basic training, as well as his medical training. After his training was completed, it was off to Korea to serve in the medical aid field. This assignment was short-lived, however, and Ed moved on to serving as the NCO (non-commissioned officer) in charge of all Special Services and USO shows for the 8th Army. In that capacity, he was able to meet many stars of the times, including singer and movie star, Debbie Reynolds, pop music sister duo The Bell Sisters, and the Kim Sisters —a trio who knew no English but memorized the words to American songs. One other personality, who was very supportive of the Armed Forces, was Johnny Grant. Johnny was an American radio personality and television producer who also served as the honorary mayor of Hollywood. He made 15 trips to Korea and during that war provided wounded servicemen with free telephone calls home when they arrived at California's Travis Air Force Base Hospital. His program was called Grant's "GI Phone Fund." This practice is still alive today — Operation Uplink — providing calling cards for our troops serving all over the world.
While Krensel would have liked to have stayed in Korea, he contracted jaundice and was sent to an Army Hospital in Japan. There, he completed his two-year draft commitment. While in Japan, he was promoted to the rank of staff sergeant, serving as an entertainment specialist in the Special Services organization. Although Krensel was in Korea after hostilities had ended, he still had some close calls from sniper fire while on guard duty. The only part of the service that Ed disliked was basic training. He found the rest of his service enjoyable and made many friends. It is these friendships that he misses the most after leaving the service. Ed has been back to Korea five times since leaving duty to visit his old units in Panmunjom in the village of Munsan.
Ed has been happily married to his wife, Vivian, since 1977. He is the CEO and chairman of Enecon Corporation, a manufacturer of high performance polymers. Enecon's High Performance Polymer Composites Division provides an extraordinary range of repair and reclamation products for all types of fluid flow machinery, equipment, buildings and plant structures. The U.S. Navy is one of Enecon's biggest customers.
Ed has been a Philadelphia Mummer since 1966 in the Fancy Division. He also enjoys clay shooting in his leisure time. Ed is active member of VFW Post 175 in Doylestown.
Labels: Army, Doylestown, Vietnam