Where's the Warm in Global Warming?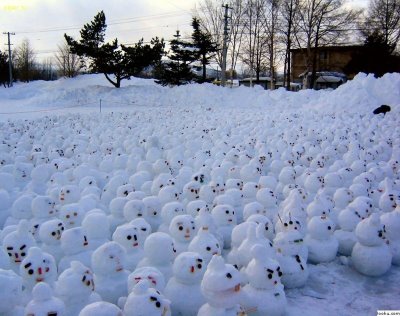 It has become customary among global warming deniers to remark during winter's coldest days that global warming can't possibly be true when it is so cold outside.


So let me beat them to the punch.


Man is it f*#%ing cold outside!


How cold is it? It' so cold snowmen are massing for their final assault on humanity. (See above)


How cold it it? I saw a guy try to light a cigarette on the street today and the flame froze.


How cold it is? I saw a polar bear holding a sign that read "Will Work for tickets to Florida."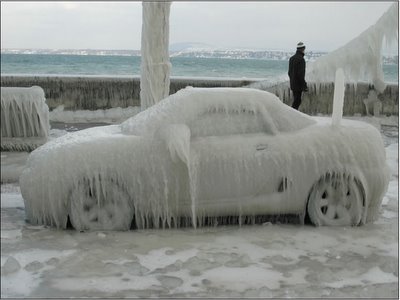 Hell, they even had freezing temperatures in Florida this week. Hell, that's like hell freezing over. How do I know? Let's just say I have sources.

It's so cold that I couldn't get into my car when I went out this morning. It had a bit of an ice problem.

Then, when I gave up, I went down to Riverfront Park here in Pottstown for a brisk walk along the Schuylkill.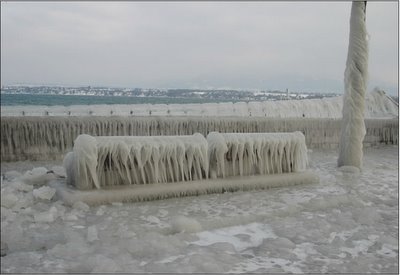 Well let me tell you, what I saw nearly took my breath (and my body heat) away.

Thank you, thank you. I'll be here all week. Don't forget to tip your waitress.



Well they say timing really is everything and that is apparently true for blogs as well.

Fast-forward three days. When I started this one, it was MF cold outside and of course now, it's been 60 for two days.

Hey wait, it's warmer, that must mean global warming is real!

And it's real right here in Pennsylvania. How do I know? The Union of Concerned Scientists came to Berks County and told us so.

When they came in October, they said "The Pennsylvania we know and love today might not be here in our children's lifetime," at least according to this article
in The Reading Eagle
(if you can believe anything they report).
According to their study,
accessible by clicking here
, a broad number of changes are in store for the Keystone State as a result of our carbon emission lifestyle.
Here are a few:
Yields of Concord grapes, sweet corn and some kinds of apples will decrease as temps rise and pests have an easier time in warmer climes;
Widespread ski resort closures will occur, along with a decrease in snowmobiling (no great loss there);
By 2040, our climate will be more like Virginia and North Carolina than the place that made Valley Forge famous because of its winters. By 2070, it could well feel like Georgia here.

Here's another way to look at it, by 2039, the number of days hotter than 90 degrees will double, more than 70 days a year for us along with a 10 percent increase in precipitation. Can anyone say "the Manatawny is flooding ... again"?

From 1961 to 1990, Philadelphia had about 20 days a year over 90 degrees, according to a handy chart in the report. By 2099, we will see more than 80 such days.

Not that we didn't do some of this ourselves. According to the scientists, Pennsylvania contributes 1 percent of total global emissions of CO2, and is the third highest in the U.S., behind only Texas and California.

There's another reason to worry about global warming -- it might kill you.

According to a report issued by the EPA (link not available either to the report of the Minneapolis Star-Tribune story that reported on it), climate change is "unequivocal" and blame is placed squarely on humanity's shoulders.

The report said as temperatures rise, extreme weather events; diseases borne by ticks and other organisms and an increase in asthma attacks cause by higher levels of pollen and smog will kill more people. (It was unclear whether that will be offset by fewer people freezing to death.)

And, because no environmental column would be complete without a swipe at the Bush administration's record on this issue, the Star-Tribune reported several months ago (yes I am a pack rat and save all kinds of things) that the former administration tried to "bury" the report so as not to have to regulate greenhouse gases.

In the governmental equivalent of sticking its fingers in its ears and saying loudly "I can't hear you lalalalalalalala," the former White House staff chose to deal with this issue by refusing to open e-mails about it from the EPA (this after Darth Cheney's office brazenly deleted testimony on the science made to a Congressional panel.)

Unfortunately for us all, what they don't know can hurt us.
Labels: Berks County Conservancy, Dick Cheney, global warming, Minneapolis Star-Tribune, Union of Conerned Scientists