Officials with DUI charges work to get ARD status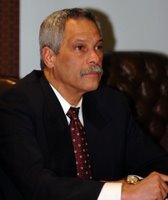 By JENNIFER MILLER
Staff Writer
WEST CHESTER – City Manager Harry Walker and Assistant City Manager Kirby Hudson – both who police arrested for allegedly driving drunk earlier this year – are in the process of obtaining rehabilitative status.
Walker and Hudson both applied for the county's Accelerated Rehabilitative Disposition (ARD) program, which is operated out of the District Attorney's office and is intended to help eliminate court costs by defendants seeking help instead.
If the two are accepted into the program they can avoid jail time and have their records cleared. If they do not get into ARD, they could face 48-hours in jail and lose their licenses for a year.
Police arrested Walker for allegedly driving drunk on Feb. 1 on the Route 30 Bypass. The District Attorney's office approved his ARD application May 31. He is slated to appear in court July 3 where a judge will officially accept or reject his application, according to the District Attorney's office.
If accepted, Walker – who had a .13 blood alcohol content – will be on probation for six months, lose his license for a month and be ordered to complete 100 hours of community service, according to the District Attorney's office.
Walker's community service hours were doubled, compared to the norm, because he was arrested for DUI in 1989 and was recently cited for failing to report an accident to police, according to the District Attorney's office.
Hudson's ARD application is still pending. Police arrested Hudson for allegedly driving drunk Feb. 17 on Route 202.
In February, some City Council members criticized the behavior of Walker and Hudson.
"There's no excuse. There's no apology that's going to cover this. It's just unacceptable behavior," City Councilman Martin Eggleston said in February.
At the time, Eggleston and City Councilman Ed Simpson said policy changes should be considered in light of the arrests. However, council has yet to publicly propose any related changes.