Bob Staranowicz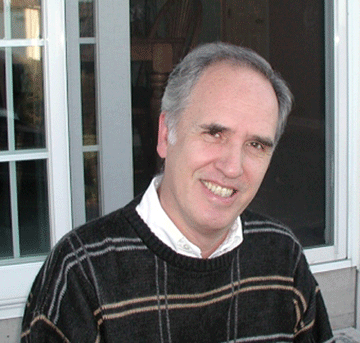 Bob Staranowicz, a 14-year resident of Doylestown, (above) authored a book and co-authored a play about the experiences he and others had while serving in the Vietnam War. During his time in Vietnam, it was the children at the Kim Long orphanage (below) along the Perfume River that stuck with him the most. He and other soldiers would often bring the candy and toys they got from home to the children.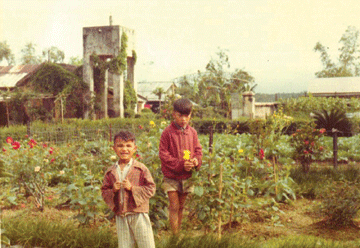 Doylestown Patriot
contributor was

drafted for the Vietnam War in 1968.
By Janine Logue
BucksLocalNews.com Editor
It was the first time Bob Staranowicz had ever flown in an airplane. The year was 1968, he was 21 years old and headed off to Vietnam.
Staranowicz, a Doylestown resident for the last 14 years, graduated from Northeast Catholic High School in 1966 and went to work for Sears Roebuck. By 1967 he had completed training at a computer school and was working for the Sears data processing department.
By 1968, he had been drafted.
Staranowicz decided to join the Army, and in August 1968 he started basic training at Fort Bragg in North Carolina and then transferred to the Fort Monmouth New Jersey Electronics School.
"Since it was so close to home, I was fortunate that I made it home every weekend but one for the 11 months I was there," said Staranowicz.
It was just 30 days after completing his training that Staranowicz got on to that first flight.
"I went to Vietnam with a friend I had met in basic, and on the way over we landed in Tokyo and the plane was disabled," said Staranowicz. "We were all sent to a hotel until the plane was repaired. Joe and I decided to visit a local bar and after several Sapporos, we almost missed the plane. It was on the tarmac ready to leave when we arrived by cab."
When Staranowicz finally made it to Vietnam, he arrived at the Army's Long Bihn Post, where he received orders for the 101st Airborne Division, HQ - 501st Signal Group.
"Most of my friends except for a few were stationed in the Saigon area. I went to Camp Eagle which was near the Imperial City of Hue," said Staranowicz.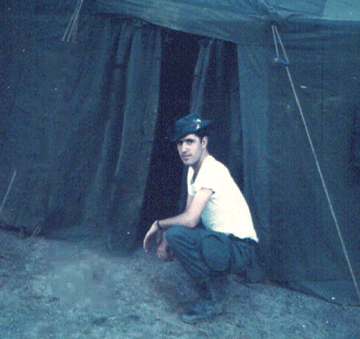 Staranowicz and the other members of his division were charged with installing communications equipment via helicopter to firebases and base camps in the 101st AO (Area of Operation).
"This included sites near DMZ and Ashau Valley and Quang Tri. The most remote site I can remember is Camp Carroll, along Highway 9, between the Dong Ha and the Laotian border," said Staranowicz.
DMZ refers to a demilitarized zone, a combat-free area between two enemies. The DMZ in Vietnam, which was created by an agreement known as the Geneva Accords, ran parallel to Highway 9 and marked the boarder between North and South Vietnam.
"The most memorable time of my service in Vietnam was not the military portion, but the time spent visiting a local orphanage in Kim Long, a poor area of Huê, Vietnam, along the Perfume River," said Staranowicz. "We would take our laundry to this place run by French nuns. We always took candy or toys sent from home and the children always appreciated anything that we would give them. A nurse friend of mine who was stationed in nearby Phu Bai went back to Vietnam in 1999 and visited the orphanage that is still there today."
Staranowicz came home from Vietnam with a rank of Specialist 5 (E-5), a Bronze Star and an Army Commendation medal.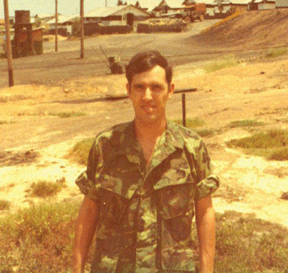 "I returned to the states with 10 months left to serve in October 1970," said Staranowicz. "In November of 1970, I married the girl — Mary Anne — I met before I had left for Vietnam. We packed up the car a week later and left for Fort Huachucha, Arizona — a four and a half day drive."
Staranowicz left the Army on Friday, Aug. 13, 1971 and returned to work at Sears.
Since leaving the Army, Staranowicz has worked for AT&T, received a bachelor's degree and an MBA from LaSalle University and become an accomplished writer.
Currently, Staranowicz works for IBM and writes a column for the Bucks InterCounty Newspaper Group, including the
Doylestown Patriot
.
Staranowicz authored a book entitled "Chapter One - The Story of Vic Charles," which tells the story of a soldier who served in Vietnam.
"The character experiences some true and some fictionalized stories of my and other friend's experiences in Vietnam and the results of those experiences on his personal life 20 years later," said Staranowicz.
Other works by Staranowicz include a small collection of poems dedicated to Charles Glenn III, a friend of his who was killed in Vietnam and a play, which he co-authored, about the Vietnam Veterans Memorial Wall in Washington, D.C.
The play is entitled "Etchings - The Stories Behind the Wall," and is available to any school interested in using it in their curriculum. It has already been performed at Fayetteville State University and various high schools in North Carolina.
For more information about the play, you can contact Bob Staranowicz at
bobstar101@comcast.net
.
The poems can be found at
www.thewall-usa.com/literary.asp
.
Staranowicz is married with two daughters. He is a member of VFW Post 175 and VVA Post 210.
To this day, Vietnam remains a big part of Staranowicz's life.
"I am considering a trip back to Vietnam to visit where I had served," said Staranowicz. "I know that the orphanage is still there and I have been told that Camp Eagle still exists. I also would like to visit Saigon where IBM has an office and where I have developed relationships with several of the employees there."
Labels: Army, Doylestown, Vietnam