Joseph Pavone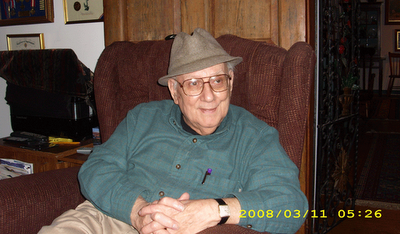 Joseph Pavone's artwork helped beautify Bristol, but before that, he was a U.S. Armed Forces photographer in Germany.
Bucks County artist and sculptor got his inspiration

while stationed in Germany during the Korean War.
By Tim Chicirda
BucksLocalNews.com Editor
Many people in both Bristol Township and Bristol Borough are familiar with the great artistic mind of Joseph Pavone, but many do not know that he is, in fact, someone who needs to be recognized for his military history, as well.
Pavone is known for his work as a sculptor and artist. His creative abilities have helped to beautify both the township and the borough. But, before all of that, Pavone was a member of the U.S. Armed Forces.
Corp. Joe Pavone was drafted into the Korean War under the U.S. Army Signal Corps. Pavone was a MOS-Army Photographer in Germany.
Pavone's career in the military began with training in a nearby Fort Monmouth, N.J., photo school.
Some of the things that Pavone photographed were installations that were moved behind the Rhine River in Germany. Pavone used a 4x5 speed graphics camera, a model primarily used in the 1940s.
While in Germany, Pavone's real interest took shape. While stationed in Karlsruhe, Germany, at the foot of the Black Forest, Pavone studied art under famous oil painter Helmut Meyers.
While continuing his civic duties, Pavone was exposed to an extremely creative environment, where he learned and began building inspiration for his later projects.
"I was always interested in art ever since I was a baby. [I] used to draw ever since I can remember," said Pavone, "I drew my way through school."
After arriving back home, the 1945 Bristol High School graduate began painting and sculpting. However, when the 1990s rolled around, Pavone really began to make Bristol Borough and Township enriched in beautiful history.
In 1991, the Bristol Lions Club erected the Joseph R. Grundy Monument outside of the Grundy Library. The head and shoulders of Bristol's most important historical figure stands proudly with his back to the Delaware River, making it a beautiful scene.
Grundy was a United States Senator, Bristol Councilman, wealthy industrialist and philanthropist. Grundy always believed in local involvment in small towns, something surely followed by Pavone.
Another important historical figure honored by Pavone was Christopher Columbus in 1992. In fact, Pavone commissioned the Columbus 500 Foundation, honoring the five-century anniversary of the famed 1492 voyage to America.
The monument, created by Pavone, is in place to honor Italian Americans who followed Columbus' link from Europe to America. It stand among all of the beautiful monument along the Borough's wharf.
Pavone's most recent and veteran-based monument stands in Bristol Township, directly outside of the Municipal Building.
Unveiled in 2006, the Bristol Township War Dog Memorial has attracted many war veterans honor not only fallen soldiers during war time, but the pet companions who were very important in many wars.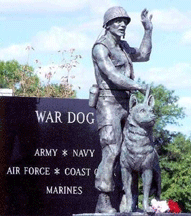 According to Bristol Township, over the course of our nation's military history, tens of thousands of War Dogs served during World War I, World War II, the Korean War, the Vietnam War, the Persian Gulf war, and also more recently in Bosnia, Iraq and Afghanistan.
American Wsar Dogs are credited, not only with companionship, but with courageously saving soldiers' lives. It is estimated that around 10,000 U.S. and allied lives were saved during the Vietnam War alone.
The dogs tracked, tunneled and found mine and booby traps, among many of their other duties.
Pavone's work did not end there though. Pavone is also credited with the design of many other things in Bristol Borough, including part of the newly renovated Bristol Borough Hall and the famous "Welcome Friend" sign upon entering the borough.
"Welcome Friend" has became the motto and a staple of Bristol Borough.
Anyway that Pavone can give history back to the people of his home town is great deed in his eyes. Pavone is a member of the Memorial Foundation and the Bristol Cultural and Historical Society in Bristol Borough.
The 1969 Bristol Borough Citizen of the Year still resides in Bristol with his wife Phyllis. All of Pavone's children live nearby as well.
Pavone continues to live through the words of one of his inspirations, Joseph Grundy: "If a man does not take pride in his own town, he isn't likely to give a rap for his country."