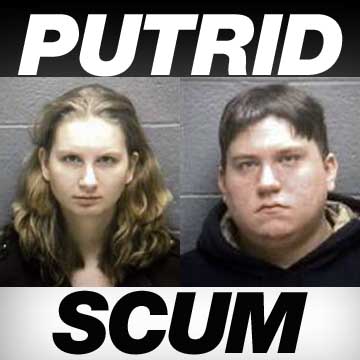 As a kid you read about monsters and dream about them living under your bed. A three-headed beast with razor sharp claws, blood stained fangs and piercing eyes. Fortunately that is fiction but the reality is that there are some really sick monsters that roam this Earth and children are their target.
Before dying, 2-year-old Riley Ann Sawyers was beaten with belts, picked up by her hair, thrown across the room and held under water, according to an affidavit from the Galveston County Sheriff's Office.

Police believe 2-year-old Riley Ann Sawyers is "Baby Grace."

The affidavit says the girl's mother, Kimberly Dawn Trenor, described to police how her daughter died and was put in a plastic storage box that Trenor and her husband, Royce Zeigler, later dumped into a Galveston waterway.

Trenor's statement said on July 24, she and Zeigler both beat the child with leather belts and held her head under water in the bathtub. She said Zeigler picked the girl up by her hair and also threw her across the room, slamming her head into the tile floor.

After her daughter died, Trenor's statement said, she and Zeigler went to a Wal-Mart that night and bought the Sterilite container, a shovel, concrete mix, and other supplies.

The statement said the box containing the child's body was hidden in a storage shed for "one to two months." Then, Trenor said, she and Zeigler carried it to the Galveston Causeway and tossed it in, and she saw it drifting away.
There are very few things I find more disturbing than this story. A truly heartless mother and step-father who beat that little girl as if she were a rag doll. These are two of the most despicable human beings and I don't feel that any court can hand a just punishment to these two for such a heinous crime.
Beating a two-year old little girl…your own daughter! That's a fair fight. These two are a pair of sick animals. I hope that both of you get yours once you are sent to prison.
Labels: baby grace, Kimberly Dawn Trenor, Riley Ann Sawyers