FALL PRACTICES BEGIN
On your drive to work this morning, did you pass by any of Delaware County's many high schools? Did you spot any of the occupied ball fields? Student-athletes in jerseys?
The fall season is upon us.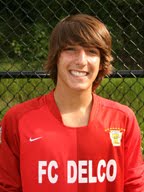 I don't know about the Delco readership, but my summer was a fantastic one. It's a shame to see it creeping toward a close. On the other hand, it brings us to the opening of the fall sports season.
At the Daily Times, we've already got the wheels in motion on our annual high school football preview section. With the other sports, however, they will be highlighted in Tuesday's newspapers.
Harry Chaykun was out and about covering the girls side and I was at The Haverford School for the Inter-Ac Boys Soccer camp, where reigning All-Delco goalkeeper Max Kurtzman (pictured) was putting on a display.
Pick up a copy of the Daily Times to read more about the fall sports season.
Labels: Fall sports season, Harry Chaykun, Haverford School, Max Kurtzman