NORRISTOWN TOPS PENN WOOD TO WIN DISTRICT TITLE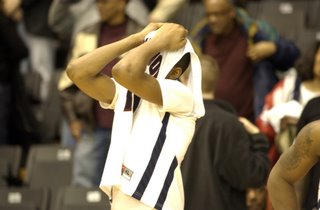 The expression by Penn Wood senior Will Brown (pictured) should say everything. In case it doesn't here is what Brown felt immediately following the Patriots' 52-49 loss to Norristown in the District One Class AAAA championship game:

"It felt good," said Brown, whose potentially game-tying shot rimmed out at the buzzer. "It just didn't go in. It didn;t drop. I really wish it would have gone in."

The Patriots had tons of chances to secure their first district championship since 1992 - and only their second in school history. They had plenty of unforced errors in the game, however:
They committed 19 turnovers.
They committed 20 personal fouls.
They shot just 5-for-16 from the free-throw line.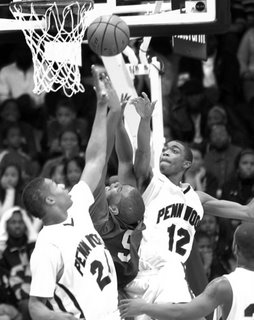 Making matters worse was the exceptional play of Norristown senior
Khalif Wyatt
. The 6-3 guard, a Temple signee, did just about everything for the Eagles. He scored 19 of their first 20 points. He finished with a game-best 25 points and (deep breath) hauled in five rebounds, grabbed five steals, dished out two assists and even blocked a pair of shots to boot.
It didn't matter who the Patriots threw at him - and Penn Wood coach Clyde Jones tossed everything but the kitchen sink at Wyatt - there just was not stopping him. Wyatt got the upper hand, even if it looks like otherwise in these excellent photos by Daily Times photographer Bob Gurecki.

The win made the Eagles' return to the district-title game a memorable one. They lost to Chester last year, ending their undefeated season.

1. On one right before halftime, he faded to his right and jumped off only his right foot. The shot, which looked offbalance, banked off the glass and in.

2. Chided by Penn Wood's fans all game for airing a layup in the paint, Wyatt drilled a 3 with Penn Wood junior DeQuan Pelzer draped all over him. After hitting the shot, Wyatt looked at the crowd and thumped his chest with a closed fist.

OK, enough about this game. After all, the only way these two will see each other again is in the PIAA Class AAAA championship. (One can dream.)

###

In the District One ninth-place game:
Glen Mills did it. The Bulls pulled off the impossible, improbable, unbelievable route to their first state-playoff berth since 2004: they beat Central Bucks West, 60-57, in double overtime to secure the district's ninth and final slot.

Reggie Miles was huge, stepping up with a team-best 23 points. Aaric Murray had 16 more, and Lavander Johns had nine in the win. It seems like a different player is stepping up each night for the Bulls this postseason.

What really bites about this whole process is that the Bulls - as a "reward" for winning three elimination games in a row - are required to play a play-in game this Tuesday just to get into the PIAA first round, which is held next Saturday. That's where the PIAA screwed up. This needs to be fixed, because the Bulls (or any team that follows them as the No. 9 seed) does not deserve that.
Labels: Aaric Murray, Clyde Jones, DeQuan Pelzer, District One Class AAAA basketball playoffs, Khalif Wyatt, Lavander Johns, Reggie Miles, Will Brown