BACK TO WORK: FIRST DAYS OF PRACTICE
In case you didn't believe it to be true, it's finally here - the fall sports season. Pinch yourselves, people. In less than three weeks, school will be in season and our county's teams will be on the field playing games.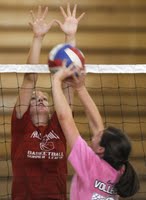 Yesterday, Daily Times staff writer Matt Smith and I ventured out to get the early scoop on the first day of practice around Delco.
ON THE GIRLS SIDE... Matt caught up with a Cardinal O'Hara volleyball team that feels like it has something to prove. After winning eight consecutive Catholic League championships, the Lions stumbled last season and allowed Archbishop Wood to take top billing.


ON THE BOYS SIDE... I headed over to the Inter-Academic League boys soccer camp, a weeklong voluntary workout at The Haverford School. There, I caught up with Fords keeper and reigning All-Delco Max Kurtzman, who has done everything imaginable that a 16-year-old soccer player could achieve. And he still wants more. He doesn't want to settle for being No. 1 in just his league or this county.
Keep an eye on the Daily Times for the latest on all of your favorite fall sports. Because remember: this is only the beginning.
Labels: Cardinal O'Hara, Fall sports season, Matt Smith, Max Kurtzman