PENN WOOD VS. CHESTER: SOME OBSERVATIONS
By now, you probably know that Penn Wood pulled off the upset of Chester Tuesday night. (Junior point guard
Tyree Johnson
, pictured, was the hero. He scored 26 points, hauled in six rebounds and dished out six assists in the 53-52 win.)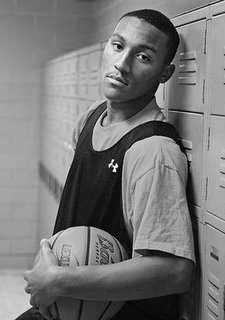 But what you don't know is what else went down before, during and after the game. Here are some observations:
1. Chester's
Laquan Robinson
must like
Beyonce
, because he was singing the words to 'Single Ladies' in pregame warmups as the top-40 hit was being played in the gym.
2. The DJ manning the table slipped up, then made up for it. In bad taste, he let some expletive-laced songs play in a gym filled with children. Later on, though, he had the Penn Wood fan base in stitches as he played music over the Chester cheerleaders.
3. As Chester's
Learon Pray
lined up for the playing of the national anthem, there was one small problem: there was no flag in the gym. He mouthed to Chester coach
Larry Yarbray
, 'Which way do we face?'
4. According to a couple sources, only 250 presale tickets were made available to Chester fans. Which made for a mess at the front door, as a couple hundred more were turned away before the game.
5. I'm a big fan of high school mascots. Who isn't? But Penn Wood's version of the colonial patriot was weak. The person in the costume had rhythm and energy but the shabby suit was too big and the giant head kept falling off. Thumbs down to that.
The Daily Times was there Tuesday, with columnist
Jack McCaffery
turning in a great piece on
the level of trust
Penn Wood coach
Clyde Jones
has in Johnson. I handled
the game story
duties, and photographer
Julia Wilkinson
grabbed pictures and some
video footage
.
(Photo of Tyree Johnson by the Philadelphia Daily News)
###
THE 1,000-POINT CLUB
Marple Newtown's
Soutiri Sapnas
needed 13 points Tuesday to break the 1,000-point plateau for his career. He scored that much in the first quarter.
Sapnas, on the fast track to becoming the school's all-time leading scorer, became the third player in Delaware County this season to crack 1,000 points. The others were Sun Valley's
Tom Brennan
and Strath Haven's
Calvin Newell
.
###
DROPPING THE BALL
From the night's crazy-upset file, Harriton (6-13, 3-11) knocked off Penncrest (15-4, 10-4), 47-43. The loss to Harriton, a Class AAA team, does serious damage to Penncrest's hopes of attaining a top-10 seed in the District One Class AAAA bracket, which is announced Feb. 8.
Labels: 1000-point scorers, Calvin Newell, Jack McCaffery, Julia Wilkinson, Laquan Robinson, Larry Yarbray, Learon Pray, Soutiri Sapnas, Tom Brennan, Tyree Johnson, Video footage