THE BEST OF DELCO: UNDERCLASSMEN
Two days after seeing the best game of the season - Penn Wood 53, Chester 52 - I was treated to another gem Thursday when the same Penn Wood team took down Glen Mills, 61-57, in double overtime.
And when sophomore forward
Aaron Brown
was
picking apart The Mills in overtime
, it got me thinking about who are the top underclassmen in Delaware County.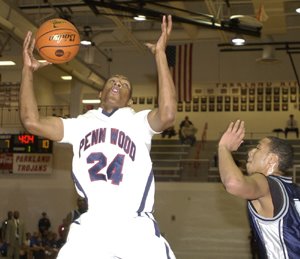 Here's this reporter's list:
1. Juan'Ya Green, So., PG, Archbishop Carroll
: Green, 6-3, can make something happen from anywhere on the floor. He's getting high Division I recruiting interest (understandably so).
2. Aaron Brown, So., PF, Penn Wood
: The Roman Catholic transfer, 6-5, is a converted center who is finding a home on the wing. His outside game is improving day by day.
3. Isaiah Baker, So., C, Episcopal Academy
: The third-leading scorer for the Churchmen is 6-7 and is learning how to play within the body with which he's been blessed. Keep an eye on him.
4. Shawn Oakman, So., C, Penn Wood
: A starter last year as a freshman, the 6-8 Oakman (pictured) is a talented rebounder and shotblocker. A boost in his scoring average (7 ppg.) will come with time.
5. Chazz Fisher, So., SG, Strath Haven
: He started the year at JV and continues his quick ascent through coach Steve Lewis' system. Fisher is a jumpshooter with good skills around the glass, too.
6. Kurt Johnson, So, SG, Marple Newtown
: Johnson, a JV call-up due to injury early on, is one of the best up-and-coming 3-point shooters in the county.
7. Montrail Talford, So, PG, Upper Darby
: He is learning more and more. This is his second year of varsity experience with an upperclassmen-laden lineup.
8. Kareem Robinson, Fr., PG, Chester
: The Clippers are grooming the 5-10 guard, the younger brother of two-time All-Delco
Nasir
, as an heir apparent to the point.
9. Rahmir Jefferson, Fr., SF, Chester
: Imagine
Rahlir Jefferson
three years ago, except maybe just a tad more polished.
10. Norm Donkin, So., SG, Ridley
: A pure shooter with decent range. He's a building block toward the future at Ridley.
Anybody I left out, shoot me an
e-mail
or leave a comment here.
Coming up Saturday
: the top juniors in Delco.
Labels: Aaron Brown, Chazz Fisher, Isaiah Baker, Juan'Ya Green, Kareem Robinson, Kurt Johnson, Montrail Talford, Nasir Robinson, Rahlir Jefferson, Rahmir Jefferson, Shawn Oakman