A TIMEOUT WITH LA SALLE FRESHMAN KARON BURTON
While covering the Villanova-La Salle game Sunday, I caught up with two Delco players who will be pivotal in La Salle's resurgence - Aaric Murray and
Karon Burton.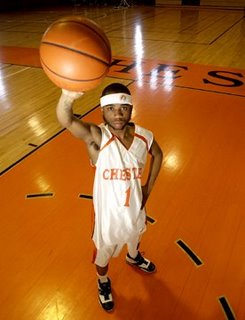 Burton, the reigning
Daily Times
Player of the Year, is a redshirt freshman at La Salle who is working toward becoming academically eligible for the 2009-10 season. The Chester product's point guard skills are needed desperately by the Explorers, who had 15 turnovers to nine assists Sunday.
Daily Times: What are you up to right now?
Karon Burton: Nothing right now with the team, but it's all individual workouts and weight training and everything. I'm just working on my grades right now and I'm getting good ones, too. I have to keep waiting. After next semester, I can start practicing with the team. I have to wait for the summertime to practice, but I'm getting stronger and quicker.

DT: Do you like what you see in this year's team?
KB: Yeah, we just have to be more patient and capitalize I guess. We look good, but we've got to be patient.

DT: What's the hardest part of college life?
KB: The hardest part? It's being on your own. You've got to hold yourself accountable. It's all about time management.

DT: What's your workout plan like?
KB: I lift weights everyday and then I come in here (Tom Gola Arena) and shoot after I lift. Sometimes I come in here later on at night and shoot something like 1,000 shots a day. Some of the trainers, they have me on resistance ropes and have me working on my quickness like that.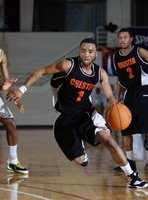 DT: What does coach John Giannini say about all of this you're doing?
KB: Well, I think he's just excited to have me. He's looking real forward to next year.

DT: Have you been back to Chester to see coach Larry Yarbray?
KB: I worked out there (Saturday). I went to their first game, too. I think people are underestimating them. We're 3-0 right now and we're beating people by 20.

DT: You're saying 'we' as if you're a part of the team.
KB: I'm an alumni now. I'm always going to be part of the team.
Labels: Aaric Murray, John Giannini, Karon Burton, La Salle, Larry Yarbray, Tom Gola, Villanova