FOR TOP-SEEDED PHANTOMS, TROUBLE IN PARADISE?
According to the
Phoenix News
, Phoenixville big man
George Harper
has decided to quit the team only days before the
District One Class AAA
playoffs begin.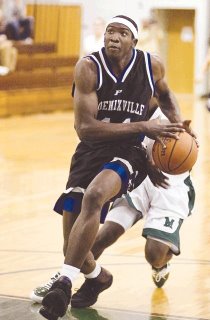 This makes the bracket wide open.
The story, from one of the
Daily Times'
sister papers, makes the case that Harper, a 6-7 junior power forward, left the Phantoms following their loss Friday in the Pioneer Athletic Conference playoffs.
The story cites
that Harper, an
American Christian
transfer, had difficulties with coaches and teammates, and academic and disciplinary pitfalls.
This is a huge blow for the Phantoms (18-5, 11-2), who won the regular-season title in the PAC-10's small-schools division. They are the Class AAA top seed and, on Saturday, will face the winner of a first-round game between No. 8
Octorara
and No. 9
Pottstown
.
What does this mean for Delaware County teams?
Well, fourth-seeded
Marple Newtown
certainly has an easier route to the district final, with the Phantoms out of the picture. (Harper torched the Tigers for 14 points in the title game of their holiday tournament. Harper, who has received recruiting interest from Georgetown and Seton Hall, was the tourney's MVP.)
And on the other side of the bracket, it's one less team No. 6
Strath Haven
and No. 7
Springfield
will have to contend with, should they string a few wins together.
Labels: American Christian, District One Class AAA basketball playoffs, George Harper, Marple Newtown, Phoenixville, Springfield, Strath Haven