WHO IS DISTRICT ONE'S EIGHTH 2,000-POINT SCORER?
Even the astute minds of the
Daily Times
do not hold the answers to every question. The one currently driving us batty pertains to District One's 2,000-point scorers.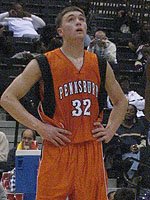 When (not if) Pennsbury's
Dalton Pepper
(pictured) scores four points tonight at Neshaminy, he will become the eighth player in District One to eclipse the 2,000-point mark for his career. Former
Daily Times
basketball writer
Terry Toohey
and I came up with seven of them:
Wayne Keys (Bristol)
Tommy Hauer (Sun Valley)
Dan Geriot (Springfield)
Lamont Ferrell (Yeadon/Penn Wood)
Tyrone Lewis (Harry S Truman)
Pepper (Pennsbury)
Who is the eighth? I'm thinking it's Hatboro-Horsham's
Matt Carroll
, but I'm not 100-percent sure. But ... the first person to e-mail the answer and proof --
cvito@delcotimes.com
-- or post it here on the blog gets a prize*. (NOTE: By "prize", I mean I'm thinking a guest entry on
Gettin' Schooled
during playoff time. Sound fair?)

###
DEL VAL CO-CHAMPS
: With Penn Wood's win over Interboro Thursday and Chester's victory over Academy Park, the Patriots and the Clippers finished in a dead heat atop the Del Val League standings. Both teams have 9-1 records, with their only losses coming against one another.
It's the first time in 11 seasons that a team other than Chester has earned a share of the Del Val championship. It's safe to say Chester would have liked to have kept its streak an undisputed league-title run. But something tells me those two will settle things in the District One or PIAA playoffs.
Labels: 2000-point scorers, Dalton Pepper, Dan Geriot, Kobe Bryant, Lamont Ferrell, Terry Toohey, Tommy Hauer, Tyrone Lewis, Wayne Keys