A Belated Valentine for the One, the Only...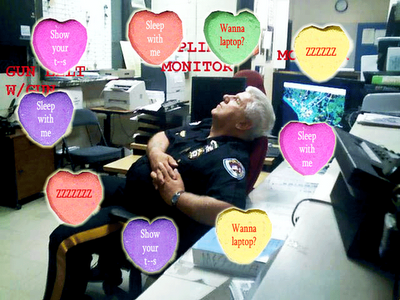 CAPTAIN SLEEPY!!!

Capt. Sleepy is back in business.
So what if most Trenton officers hit with a 30-day suspension would actually lose 30 working days? Sleepy, who is known in some circles as Capt. Paul Messina, served just 30 calendar days, including weekends he would have had off anyway, and we at The Trentonian couldn't be happier about it.
Sleepy was seen getting back to work Wednesday (Feb.13), and we are just all aflutter. We can't wait to see what hijinks the Nap'n Cap'n will get into next as he returns to head the city's Police Academy.
But with his getting back just in time for Valentine's Day, and since Sleepy's time away was due to a case of sexual harassment, we just hope this time that he can keep his amorous urges to himself.
Good luck with that, and welcome back!